OUR CRAFT SPIRITS
This is the page description.
— Our Spirits —
All of our spirits are small batch craft; fermented and distilled at our San Diego distillery.
Our portfolio of brands and products include our recently launched MACKAY branded products and our established UGLY, VALOR and RX branded products.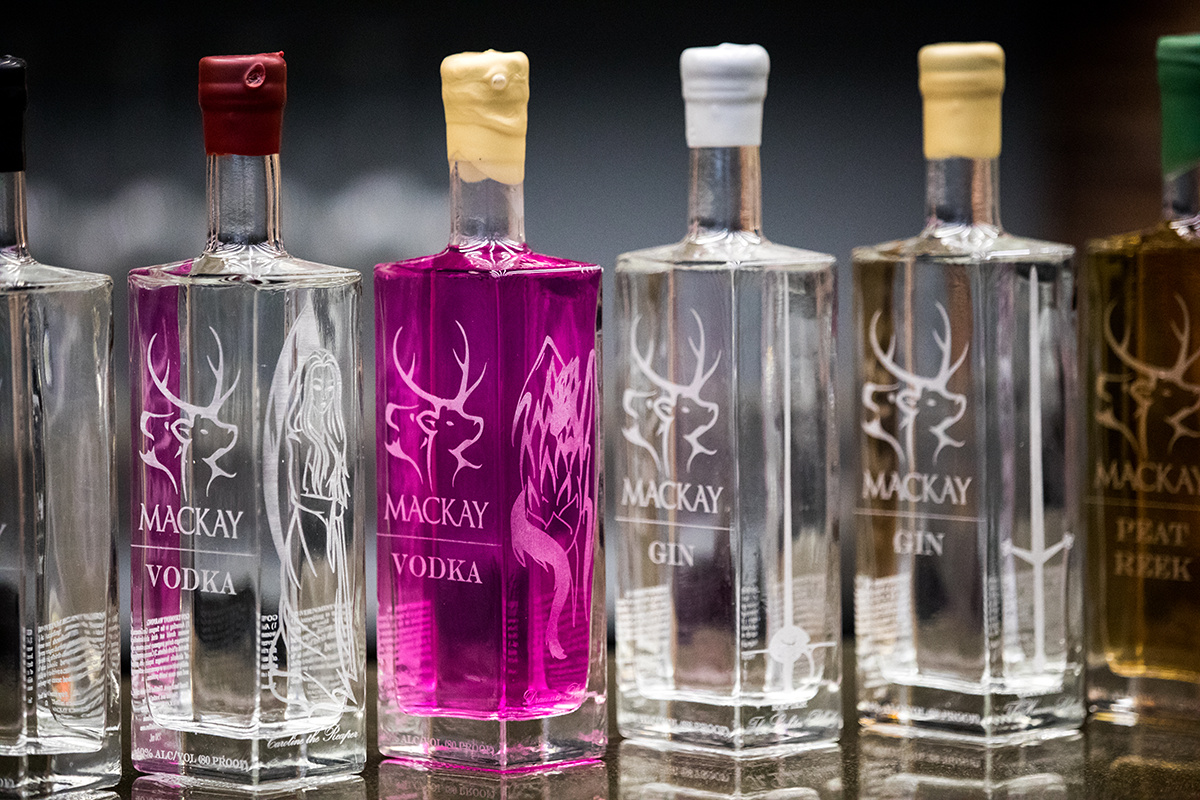 Mackay spirits exemplify premium craft. Small batch, bold and unique. Local mountain spring water is used to finish the smooth clean taste of our spirits.
Mackay GIN
RAPIER – The Lighter Blade - Rapier Gin is a lighter brighter blend of Juniper and other botanicals including Thyme, Angelica Root, Uva Ursa, Mandarin Orange and Bilberry. We combined traditional and Scottish botanicals with fresh Thyme and sweet Mandarin orange to create this exceptionally smooth Gin.
Mackay VODKA
Mackay Vodka is an exceptionally smooth vodka made from only the heart of the spirits run. We do not carbon filter so we must use only the hearts. Local mountain spring water is used to finish the smooth clean taste of our spirits. Strait or mixed in your favorite cocktail the smooth warmth of our vodka will awaken you to true craft spirits.
Mackay Rum
Mackay Silver Rum is bolder than you may expect from light rum. We use molasses in the fermentation process with our raw non-GMO cane sugar and distill in a manner allowing these flavors to remain in the finished product. Sweet but distinctive; its smoothness will meld with your favorite tropical cocktail leaving enough flavor to remind you that you are enjoying a premium craft rum.
Mackay – Infusions & Liqueurs
Our infusions are the canvas where we express the wild side of craft. Bold, unique, seasonal, adventurous and experimental. Our infusions are intended to be fun and nudge you out of your comfort zone tempting you with new and exotic. We have two new vodka infusions Carolina Reaper pepper and Dragon Fruit.
Our REAPER infused vodka is hot but flavorful. The Carolina Reaper pepper is currently rated the worlds hottest pepper but also has a sweet and fruity flavor. Don't fear the Reaper, party with her. Caroline is original artwork from Sloane Mackay etched into the side of the bottle. We struggled to find fresh pepper pods this season so we decided to grow our own. Check out our Gallery to see more.
DRAGON FRUIT infused Vodka is two years in the making and we have had some success this season working with this delicate seasonal fruit. The Dragon Fruit has a light sweet Kiwi like flavor and aroma. We experimented with the fruit last season and due to its limited availability had to wait a year to try again. We waited for the deep magenta colored fruit this season and were able to make a limited run of some beautiful spirits. Draconis Pitaya adorns the side of the bottle.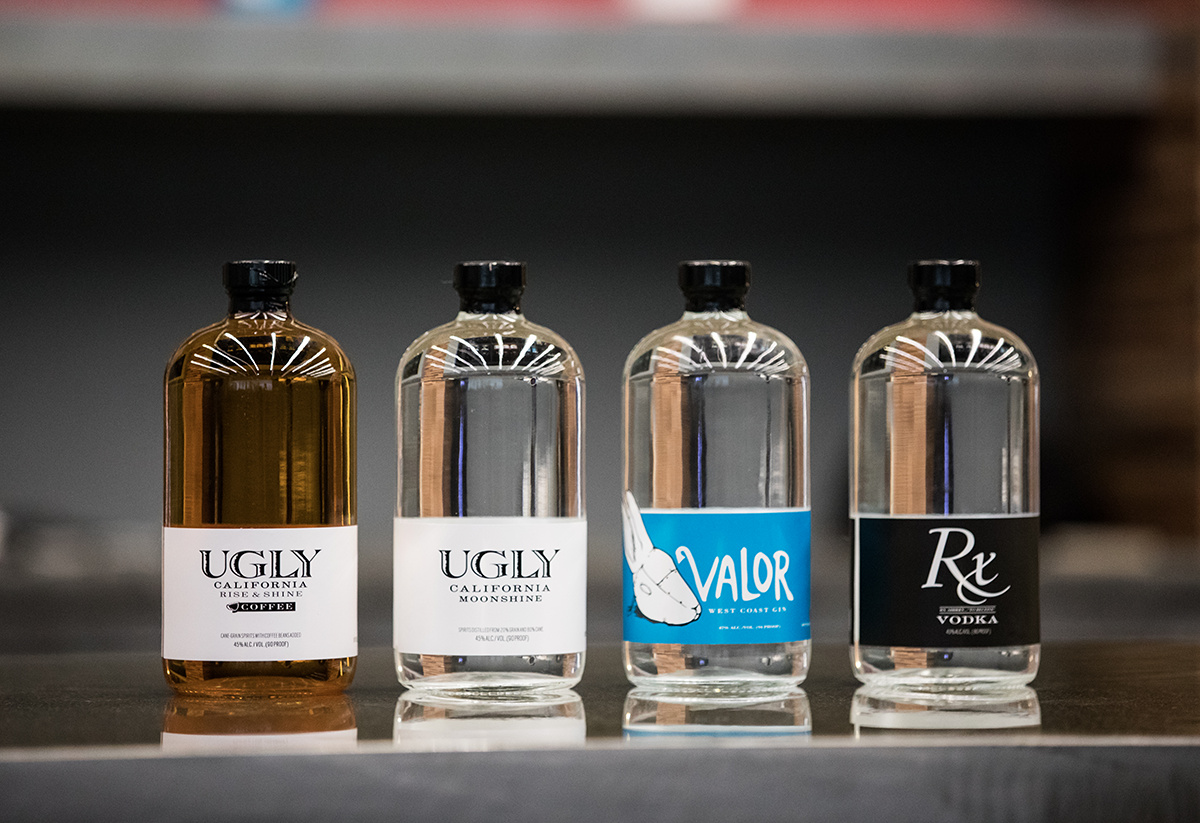 Three brands that help start San Diego craft distilling. Exceptionally smooth and distinctive, the strong character of these products set the standard for local craft distillers.

UGLY Moonshine
Ugly California Moonshine - The original San Diego Moonshine - Gold medal winner at the San Francisco Sprits Competition. Ugly is a blend of grain and cane spirits using premium six row malted barley to create a smooth caramel flavors and aromas in a strong 90 proof spirit that you can drink straight up or mixed in your whiskey style cocktail. Ugly breaks the stereotype of moonshine as a harsh unsophisticated spirit you only drink on a dare.
UGLY Rise & Shine Coffee Moonshine
Ugly Rise & Shine Coffee Moonshine - Rise & Shine adds the full flavor of the finest Brazilian coffee beans custom roasted by a local San Diego coffee roster to Ugly. Ugly gives its full flavor with out the added sugars typical to the standard coffee liquors. The smooth full coffee flavor provides a range of mixed cocktail possibilities. Its strong at 90 proof bot so smooth you can enjoy it straight. One of our favorites nightcaps is a 2 ounce pour of Rise & Shine enjoyed with some dark chocolate.
RX Vodka
Rx Vodka is an exceptionally smooth unfiltered vodka. Rx is an unconventional vodka that melts into cocktails. Its painless, we remove the alcohols that cause the burn you commonly get from mainstream spirits.
VALOR Gin
Influenced by "West Coast Style" craft beers Valor focuses on dominant notes of Chinook Hops, Grapefruit, and Mint. Valor is so smooth at 94 proof it can be sipped strait up! We have had many devoted tequila drinkers fall in love with Valor in an unexpected crossover.